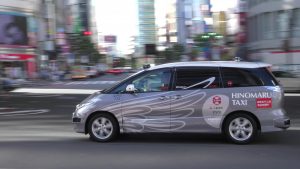 Booking and riding by taxi allocation application
We, Japanese robot venture firm, ZMP Inc. (hereinafter referred to ZMP, which is located in Bunkyo-ku, Tokyo, and CEO is Hisashi Taniguchi) and a Japanse major taxi company Hinomaru Kotsu Co., Ltd. (hereinafter referred to HINOMARU Kotsu, which is located in Bunkyo-ku, Tokyo and President & CEO is Kazutaka Tomita) began trials of passenger-carring autonomous driving taxi services from August 27th through September 8th in 2018, between near Tokyo Station and the Roppongi business district.
It was the first in the world to give Autonomous Driving taxi services to fare-paying passengers on public roads.

Autonomous Driving taxi
Since June 2017, ZMP and HINOMARU Kotsu have worked the cooperative development together for the practical use of Autonomous Driving Taxi.
Autonomous Driving services are viewed as a way to address the shortage of drivers in Japan. Because there are some background factors, for example, an increasing demand for taxis by foreign tourists who will come to see Olympics and Paralympics in Tokyo in 2020.
Autonomous Driving vehicles will reduce the cost of taxi services and make them more widely available. Such inexpensive taxis can help deal with shortages of public transportation in remote areas of Japan.
In cooperation with Government of Japan, the Tokyo Metropolitan Government established "Tokyo Autonomous Driving One-Stop Center" in September 2017 and supported our Autonomous Driving Taxi service trial. And this trial project was also selected in Tokyo Metropolitan Government business support called "Business Model Construction Project Utilizing Autonomous Driving Technology", in order to further accelerate the practical use of Autonomous Driving Technology, and this trial project was financially supported by the Tokyo Metropolitan Government.
Govenor of Tokyo Yuriko Koike actually got on this Autonomous Driving taxi on September 5, 2018 in the route of 5.3 km for 35 minutes.
After the ride, she commented, "It was a very safe driving by keeping lanes through AI technology. I hope this project can develop as one of the important social infrastrucure for people such as the elederly who have difficulties to go out.
The vehicle was developed by ZMP and operated by HINOMARU Kotsu. It could operate fully autonomously such as turning, changing lanes and stopping on its own though a driver sits for safety purposes. Passengers who booked a taxi in advance can unlock the door. Taxi allocation have to be made on line and make payments through a smartphone app.
We are now applying our Autonomous Driving technologies to other AD mobility demonstration tests after Autonomous Driving taxi. ZMP have recently conducted other Autonomous Driving vehicle demonstration tests, such as Mini EV bus at the airport restricted area. You can see Autonomous Driving EV bus demonstration test video. We continue to develop Autonomous Driving technologies for commercialization of AD vehicles, and we believe this project contribute to the development of smart mobility world in the future.
Outline of the service trial
Date: August 27 – September 8, 2018 *Excluding September 2
Time: 9:00 – 17:00
Running route: Between Otemachi Financial City Grand Cube and Roppongi Hills (approx. 5.3km)
*Otemachi Financial City Grand Cube address: 1-9-2 Otemachi, Chiyoda-ku, Tokyo
*Roppongi Hills address: 6-10-1-Roppongi, Minato-ku, Tokyo
Operating vehicle: ZMP's "RoboCar® MiniVan", equipped with ZMP's original integrated AD system called "IZAC® ".
Number of services: Eight services per day
Fare: One-way 1,500 JPY (tax included)
Organizer: ZMP Inc. HINOMARU Kotsu Co., Ltd.
Support/Cooperation: MITSUBISHI ESTATE Co., Ltd.
Cooperation: Mori Building Co., Ltd.
For your reference,
ZMP Inc. https://www.zmp.cp.jp
HINOMARU Kotsu Co., Ltd. https://hinomaru.tokyo/
【Autonomous Driving Taxi service trial with English subtitle】

【Autonomous Driving Taxi service trial Promotion Video】

【Autonomous Driving EV Bus demonstration test】

【Tokyo MaaS Promotion Video】​
::::::::::::::::::::::::::::::::::::::::::::::::::::::::::::::::::::::::::::::::::::::::::::::::::::::::::::::::::::::::::::::::::::::::::::::::::::::::::::::::::::::::::::::::::::::::::::::::::::::::::::::::::::::::::
【Company Profile】
ZMP Inc.
CEO: Eko Hisashi Taniguchi
URL: http://www.zmp.co.jp/
Driven by its mission "Robot of Everything: to create and empower new lifestyles by enabling free movement of people and goods", ZMP focuses mainly on:
(1)ADAS (Advanced Driver-Assistance Systems), Autonomous Driving Development Platform "RoboCar®" series, and Sensor systems
(2)Highly specialized engineering services applied to autonomous driving solutions and "RoboTest" on-road testing service, for automotive, commercial vehicles, construction machinery, agricultural machinery, logistics equipment, outdoor machinery, etc.
(3)Development and sales of the logistic support robot "CarriRo®".
ZMP is pioneering self-driving car services with Auto Taxi®, which aims at being fully operational by 2020, and is conducting various technology and service trials on public roads.
ZMP is also aiming at being the first Japanese company to provide a sidewalk delivery robot, "CarriRo® Deli", and is actively looking for partners to realize mass production.
ZMP will continue to push the limits of possible, by developing products and services that move people, in every sense of the term.
HINOMARU Kotsu Co., Ltd.
President & CEO is Kazutaka Tomita
URL: http://hinomaru.tokyo/
HINOMARU Kotsu is developing a taxi business as a core company of Hinomaru Transportation group in the 68-year history.
The motto is "drive with your heart rather than with arms", and they are making various innovations in taxi business and aiming at safe, good service.
In recent years, they are promoting their activities under three themes of "Technology", "Diversity" and "Healthcare". It is an approach to the shortage of manpower which is growing rapidly as the concerning inbound factor. They keep contributing to the development of a taxi business that is a part of public transportation.
Autonomous Driving taxi videos and photos: Copyright by ZMP Inc. / HINOMARU Kotsu Co., Ltd.

Autonomous Driving RoboCar® Mini EV bus video and photos: Copyright by AIRO Inc. (Joint cooperation of ZMP Inc. and Marubeni Corporation)