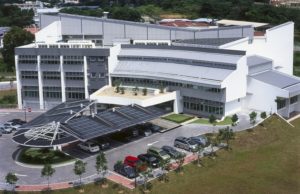 The GEO building is a pilot project, a demonstrator building which marked another milestone towards greater promotion and adoption of sustainable building concept in the Malaysian building sector. It is the only such building in Malaysia that integrates the Energy Efficiency, EE and Renewable Energy, RE in one working demonstrator building. The GEO building sited on a 5-acre site in Seksyen 9, Bandar Baru Bangi, Selangor, Malaysia.
The GEO building was designed to be very energy efficient, thus consuming very little fossilfuels with energy index (designed) of 65 kWh/m2year; compared to typical conventional office building in Kuala Lumpur of 250 to 300 kWh/m2year. It was built on a concept which focused on the green technology innovation to minimize energy demand load, efficient use of fossil fuel via taking into account the environmental concern, the usage of renewable energy but without compromising user comfort and safety. Some of the amount of energy used by the building is counter balanced by the amount of energy generated by its own renewable energy power generation system.
The building has a long range of energy efficiency features integrated in the architectural as well as the M&E design. Double-glazed windows filter heat from the sun while providing abundant natural light. The daylight design of the building is very successful, as the electric lighting needs only to be on 5% of the time during working hours 8.00 – 17.00. The building has a building integrated cooling system with cooling coils embedded in the concrete floor slabs. This allows the chiller to run during nighttime. The GEO building uses rain water for its air conditioning, outdoor watering, and cleaning.
GEO generates its own energy with a renewable energy power generation system. Solar panels provide almost 50% of the building's electricity.